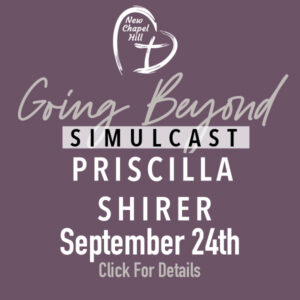 We would like to invite any ladies 18 years old and up to our Priscilla Shirer Simulcast: "Going Beyond.
Tickets are $20 and can be purchased in church office.
Please RSVP by purchasing a ticket by 9/10/22 (tickets will be provided until the day prior to the event, but RSVP will help us with coordination of the event).
When – Sat. 9/24/22 9a-4p
Coffee will be served from 8:00-8:30am
61 New Chapel Hill Rd. West Monroe, La 71291
Church Office: 318-396-2433